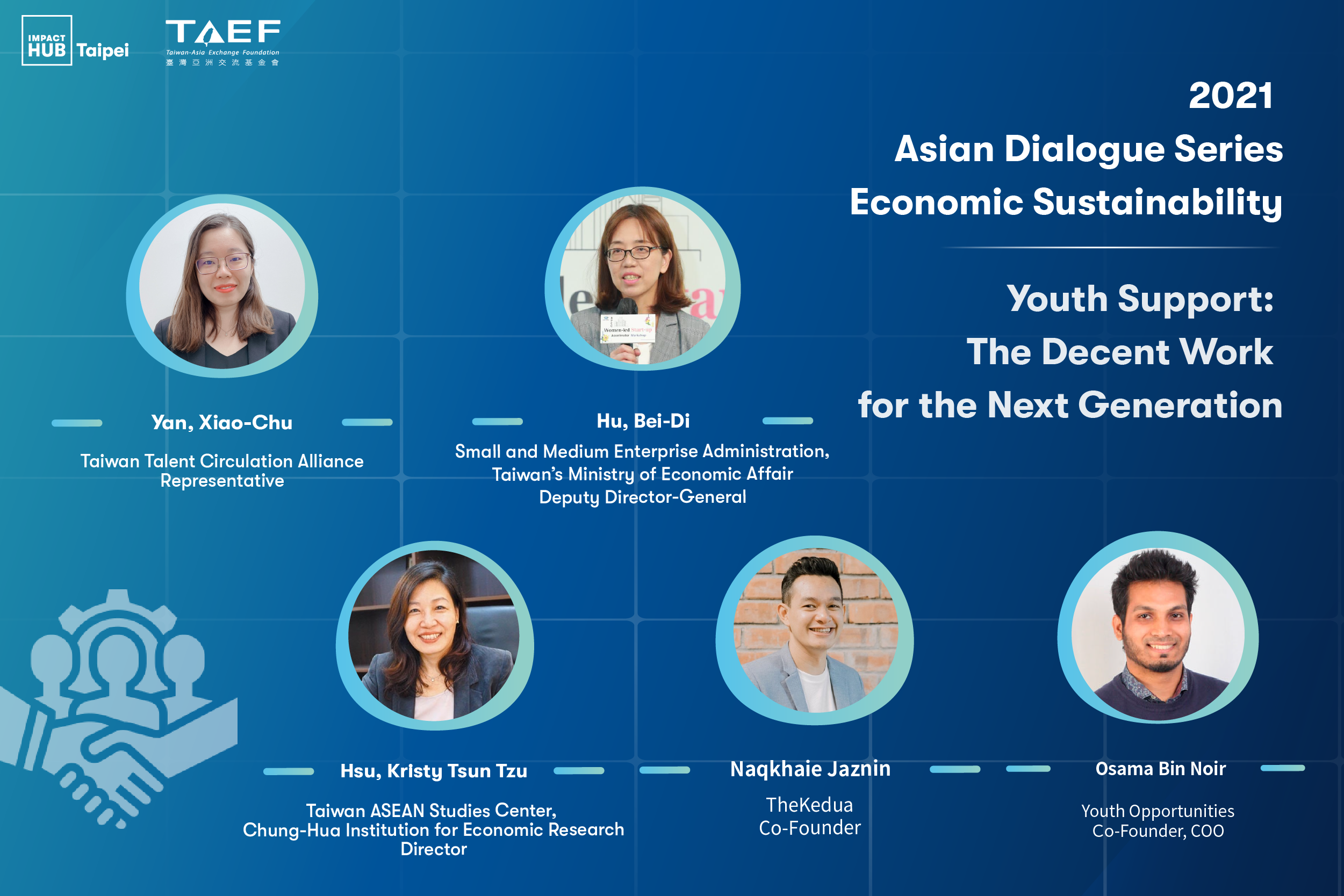 The Taiwan Asia Exchange Foundation (TAEF) held a virtual dialogue themed: "2021 Asian Dialogue Series: Building Resilient Cities through Social Innovation" on September 4th in association with Impact Hub Taipei. The forum was established for the purpose of gathering experts and stakeholders from the public and private sector in Taiwan and around the Asia Pacific Region, to reimagine the development of a resilient society together.
The Asian Dialogue Series invited participants and representatives of diverse industries, governments, academics, media, international non-governmental organizations and startups. Speakers from Taiwan and 6 other Southeast Asia and South Asia countries (including Vietnam, Singapore, Malaysia, Bangladesh, Indonesia and Thailand) discussed together about the prospect of regional cooperation and building a more resilient city during and after pandemic.
Mayor of Taoyuan Cheng Wen-tsan (鄭文燦) shares in his keynote speech that as Taiwan's gateway city, Taoyuan faces both challenges of imported cases abroad and domestic transmissions of COVID-19. Therefore, how we revitalize the economy and promote sustainability remains key in their city governance. He then shares about Taoyuan's experience in the environment protection, economy, medical care, employment, migrant workers, and education area during COVID-19.
TAEF Executive Director Dr. Alan H. Yang (楊昊) suggests that the outbreak of COVID-19 has shown that it is crucial to take decisive actions while adapting to and recovering from hazards. He also states that as the New Southbound Policy (NSP) aims to cooperate with like-minded countries and all vibrant civil societies from Southeast Asia and South Asia. Therefore, we should learn from each others' experiences so that innovative solutions can be shared when tackling global challenges.
Oliver Chang (張士庭), Co-Founder of Impact Hub Taipei, stated as he inaugurated the dialogue that as we hope the public and private sectors to respond to the development of sustainability, we should not forget that it is also the responsibility of every individual, every day.
The forum was divided into three sessions including climate change, youth support and rights of migrant workers. It first talks about reaching net-zero carbon emissions lead by global organizations and corporation representatives. The second session discussed about the extent of the pandemic's economic consequences for younger people, how policy-driven initiatives and interventions can help turn things around, and discover more solutions for young talents in a sustainable society. Last but not least, it talks over diverse aspects of migrant workers'challenges in different regions during and after the pandemic.

The forum featured the following experts and representatives from diverse areas in the Asia-Pacific region to address the topics of climate change, youth support, and rights of migrant workers:

 Climate change
- Moderator: Dr. Alan Tze-Luen Lin, Deputy Executive Director, Office of Energy and Carbon Reduction, Executive Yuan
- Speaker: Jerry Huang, Policy and Public Affairs Director, Copenhagen Infrastructure Partners, CIP
- Speaker: Tsai, Bai-Hui | Public Relation Committee Chairwoman, The Taiwan Association of Disaster Prevention Industry (TADPI)
- Maggie Lee | Lead, World Wildlife Fund (WWF) the Asia Pacific
- Pham Cam Nhung | Programme Coordinator of Low Carbon and Sustainable Energy, World Wildlife Fund (WWF) Vietnam

 Youth support
- Moderator: Gabi Yen | Representative of the Talent Circulation Alliance (TCA)
- Speaker: Pei-Ti Hu | Deputy Director-General of the Small and Medium Enterprise Administration (SMEA)
- Speaker: Kristy Hsu | Director of the Taiwan ASEAN Studies Center (TASC), Chung-Hua Institution For Economic Research
- Speaker: Naqkhaie Jaznin|TheKedua Co-founder
- Speaker: Osama Bin Noor|Youth Opportunities Co-founder and COO

 Rights of migrant workers
- Moderator: Dr. Yi-Chun Chien, Assistant Professor in the Department of Political Science at the National Chengchi University, Taiwan
- Speaker: Tanida Disyabut | Lead the operations and sales QuizRR
- Speaker: Tony Thamsir | Senior Coordinator of the Radio Taiwan International
- Speaker: Sazzad Hossain | Founder and Chief Executive Officer of the Social Development Initiative (SDI) Academy

Live streaming videos of the forum:
 The morning session on environmental sustainability
https://www.facebook.com/TAEFNSP/videos/205176088308811
 The afternoon session on youth employment and human rights of migrant workers
https://www.facebook.com/TAEFNSP/videos/673965543997683

Read more about the forum's discussion on TAEF Facebook.