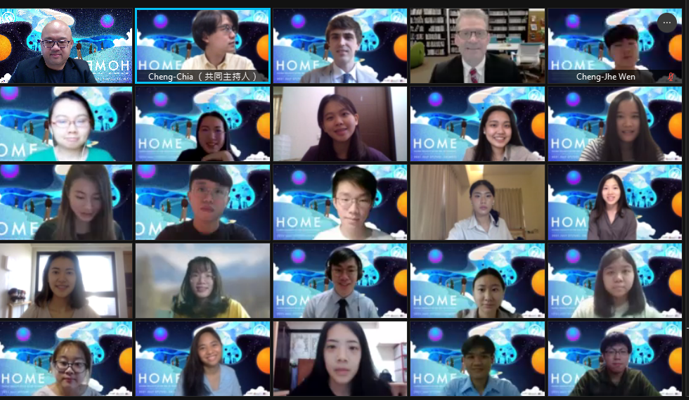 Jointly organized by Taiwan-Asia Exchange Foundation (TAEF) and American Institute in Taiwan (AIT), the 2021 SEASAT Youth Camp was held from July 27 to 28 in Taipei, encouraging young people to pay attention to global equality in the era of the pandemic.
Under the theme of this year's youth camp, "Home: Global Equality in the Era of the Pandemic," the organizers have invited academics and experts, young entrepreneurs, and NGO workers to share their insights into critical social issues including public health, basic rights and migrant workers, technology development, and the climate change. Offering crash courses and group discussions, the camp continued to empower participants to engage with the challenges of society while they were staying at home during the lockdown.
Mr. Luke Martin, Cultural Affairs Officer of the AIT inaugurated the camp by mentioning the redefinition of home. With the current outbreak of the Covid-19 pandemic, people, having lived relatively in a normal life during the past 18 months in Taiwan, is now seeing that how the entire environment that we live in is changing with the incorporation of technology. The SEASAT Youth Camp offered an opportunity to young leaders to work together and figure out how people can build a home that addresses the present and future challenges we may meet. In the future, they are all going to play a role in making this place we call home more sustainable, peaceful, prosperous, and fair.

Dr. Alan Yang, the executive director of TAEF, pointed out that TAEF and AIT have jointly organized youth activities since 2019, and over the years the number of participants has reached over a hundred. He added that every year members of the organizing committee arrange lectures and activities on the latest trends and transformation of the global, addressing social justice while cultivating young people with a forward-looking vision, and that although the camp was originally planned as a physical event, the organizing committee's swift decision to shift the activities online with a more intensive curriculum following the recent increase of the Covid cases demonstrated that adaptability is a key to be resilient in the time of the global pandemic.
Sixty young people from Taiwan, Indonesia, the Philippines, Thailand, Vietnam, and America were invited to attend this year's youth camp. Although participants were only allowed to exchange their thoughts and to bond virtually, the organizers are prepared to hold a physical event once the outbreaks are fully contained.

The SEASAT Youth Camp is a flagship program jointly organized by TAEF and AIT which annually recruits 40 to 60 outstanding young people, undergoing a competitive selection process.

SEASAT website