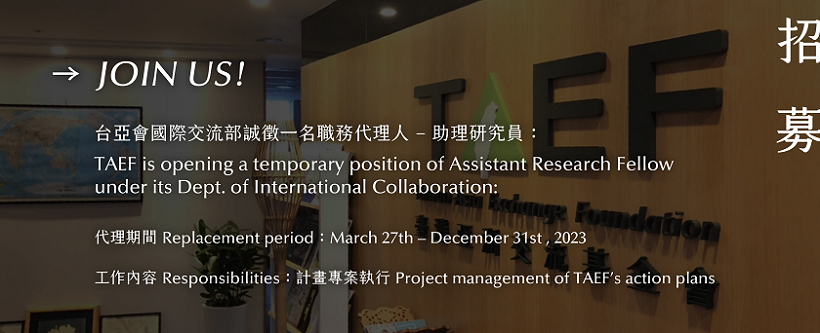 Taiwan-Asia Exchange Foundation is Recruiting an Assistant Research Fellow for a Temporary Period at the Dept. of International Collaboration
Are you a graduate with a Master's degree and interested in starting a career in international relations?
Here is your chance to work out a fabulous career after Lunar New Year!
Taiwan-Asia Exchange Foundation (TAEF) is opening a temporary substitute position for the function of Assistant Research Fellow at its Department of International Collaboration. In this position, you will have opportunities to assist with organizing international conferences to promote the foundation's policy advocacy.
The incumbent will be in charge of administrative management and planning & execution of projects and events carried out under TAEF's five flagship programs (Think-Tank Collaboration, Young Leaders Engagement, Civil Society Connectivity, Regional Resilience, Art & Cultures) related to Taiwan's New Southbound Policy.
If you have a strong interest in international affairs and are motivated by tasks involving project management and administrative details, you are welcome to join TAEF, which will lead you to a journey of being engaged in Taiwan's external relations.
Taiwan-Asia Exchange Foundation
Founded in 2018, the Taiwan-Asia Exchange Foundation (TAEF) is the first policy-oriented think tank in Taiwan focusing on Southeast Asian and South Asian affairs. In the spirit of the New Southbound Policy (NSP), the goal of the TAEF is to promote comprehensive ties between Taiwan and the 10 ASEAN countries, 6 South Asian states, as well as Australia and New Zealand through cooperation and exchanges in five major fields – including think tanks, non-governmental organizations (NGOs) and young leaders – to consolidate a sense of regional community in Asia and establish long-term cooperative partnerships. TAEF is devoted to building new mechanisms for regional cooperation among Asian societies. Our goal is to cultivate standard policy blueprints for Taiwan, ASEAN, and South Asian countries through frequent regional dialogue, while also highlighting Taiwan's commitment and contributions towards Asia's development through concrete initiatives for cooperation. In addition, the TAEF hosts various international conferences – including the Yushan Forum: Asian Dialogue for Innovation and Progress – with the aim of strengthening ties with New Southbound Policy partner states and societies, while also inviting other like-minded countries to participate in the regional dialogue. To know more, please visit:
Posting Title
Assistant Research Fellow (a temporary position of substitute)
Contract
Full-time (40 hours per week)
This vacancy is a temporary position of a substitute to replace personnel on maternity leave for a foreseen contract period as follows:
From March 27, 2023, to December 31, 2023. Please note that the contract period is subject to change in case the personnel on leave ends earlier or prolongs the substitution period.
Main responsibilities
Within delegated authority, the Assistant Research Fellow will be responsible for the following duties:
1. Assist with the execution of the foundation's flagship programs:
The foundation's flagship programs and associated activities are related to, but not limited to: think tank collaboration, young leaders' engagement, culture exchange, regional resilience, civil society connectivity,
Coordinate administrative tasks of the foundation's flagship programs, including but not limited to: writing official letters, supporting vendor management, proceeding with payment and reimbursement claims, assisting in project execution and report edition,
Support planning and execution of the foundation's flagship programs, including but not limited to issue research, agenda setting, sending invitations and tracking RSVP, and conference concierge.

2. Editorial responsibilities in Mandarin Chinese and English
Edit and disseminate daily and biweekly newsletters in Mandarin Chinese and English by consolidating information on the Southeast and South Asia region contained in communications and publications received from different sources, including the press,
Contribute and produce content for the TAEF Quarterly as assistant editor of the editorial team,
Edit the foundation's research publications, including but not limited to: The Image of Taiwan and Taiwanese Business, studies on NSP and related countries, Indo-Pacific Strategy, etc.
3. Event Management (the Yushan Forum)
Assist in preparing and hosting the forum, including but not limited to event venue arrangement, guest itinerary planning, cross-sectoral communication and tracking, vendor management,
Edit the forum booklet and post-forum report.
4. Others: Perform other related duties as required.

Requirements

1. Education: Master's degree or equivalent in international relations, political science, economics and trade, public affairs, public policy, journalism, or other related subjects. Interested in New Southbound Policy and related nations' politics, economics, society, and culture.
2. Work Experience: no official working experience is required but a strong motivation in working in a policy-oriented and non-profit organization is necessary. The prior experience involved in public affairs activities, conference planning, and implementation is a big plus.
3. Project management: the ability to understand administrative processes, be detailed- minded, willing to work with numbers, and deal with administrative documents. Ability to work on multiple projects simultaneously; assess responsibilities and organize tasks in terms of priority.
4. Capabilities: capable of carrying out at least one of the works below (work portfolio preferred):
Text production (e.g.: posts, speeches, commentaries) in Mandarin Chinese and English
A Basic understanding of the structure and procedure of official letters,
A Basic understanding of the procedure of purchasing and payment claims,
Preliminary experience with conference-related events,
Fundamental ability of research,
Primary understanding of the role positioning of a judicial entity,
Video production (Using Premier pro is preferred, but not obligatory),
Graphic design (Photoshop, Illustrator, Indesign, or Canva preferred).
5. Languages: Proficiency (oral and written) in both Mandarin Chinese and English is required:
Mandarin Chinese: Non-native speakers are required to present a language certificate that demonstrates a minimum proficiency of TBCL 6 (or equivalent),
English: Non-native speakers are required to present a language certificate that demonstrates a minimum proficiency of an overall band score of 6 in IELTS or 78 in TOEFL iBT (or equivalent),
Ability to translate documents from Mandarin Chinese to English and vice versa,
Knowledge of Languages in other languages, esp. Southeast Asian languages are an advantage.
Characteristics: be able to operate independently and work proactively and collaboratively with colleagues; be willing to learn from others; share credit for team accomplishments and accept joint responsibility for team shortcomings; be attentive to details and administrative procedures required.
Salary
30,000 - 46,000 NTD / month
Benefits
Labor and health insurance, pension scheme
How to apply
Please complete your application at https://forms.gle/TpvjoKvFiCTtfjKn7
(Attention: application sent via job banks such as 104 will NOT be considered as successfully completed. Thank you for your understanding and cooperation.)
Deadline
Applicants will be screened on a rolling basis. Early submission is suggested.
Screening process
The application will be reviewed based on the application materials, an on-site written exam, an interview, and a pre-hire orientation (only a shortlist of candidates will be notified)
Office
Taiwan-Asia Exchange Foundation (Room 1107, 11F, NO.136, Section 3, Ren'ai Road, Da'an District, Taipei)